The University of Bedfordshire is preparing to host the annual Community Media Association (CMA) festival on May 7, which this year is themed to celebrate inclusion within the industry.
Scheduled to be hosted at the Bedfordshire campus in Luton, the day-long program festival will host guest speakers from different areas of the media industry – including alumni of the University itself – with the aim of inspiring the next generation of creative talent.
As well as hosting the one-day festival, tours of the university prime Radio LaB studios will be available to participants, run by students involved in the daily operation of the station.
Terry Leea main tutor in radio and sound and CMA Vice President, said, "Everyone at Radio LaB is looking forward to welcoming delegates and guests to the University. We are proud supporters of community radio and honored to host the festival this year.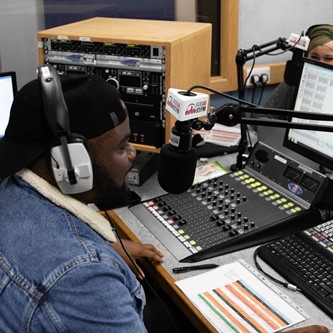 Guest speakers confirmed so far include Dr Rosena Allin-Khan, Shadow Cabinet Minister for Mental Health, talkRADIO's Darryl Morris and Bedfordshire elders Matt Fisher – the lead sound station producer for a number of radio stations. BBC National Radio.
Matt, a graduate in Media Performance with Radio in 2003, said: "When I graduated from the University of Bedfordshire I left with a wealth of skills, experience and motivation to break into professional radio. .
"I can't wait to get back to where it all began for the Community Media Festival, to talk about what it's like to be at the BBC leading a team of award-winning Station Sound producers, and what how it feels to help celebrate the importance of community radio as a platform to promote diversity, inclusion and nurture new talent.
Alongside Matt, the University has a long history of successful media alumni, such as Becky Jago from ITV News Anglia, Gemma Hunt from CBeebies (BBC), Sam Darlaston by KISS FM, Sky Sports News' Tom White and BBC Radio1 featuring the duo Rickie and Melvin.
This will be the second time that the University has been chosen by the CMA to host, like the Community Media Conference also took place on the Luton campus in 2015.
Dom Chambers, President of the CMA, commented on this year's festival: "We have organized this festival to inspire all of us who work in audio and to show the radio industry and the public how community broadcasting is leading the way in terms of inclusion, training and empowering less heard voices.
After the festival, celebrations will continue on campus with the 2022 CMA Community Media Champions, recognizing outstanding individuals who have made a special and significant contribution to community media in the UK.
Tickets for the festival are on sale until 6and May and more information and prices can be found here.