Maryam Masoomi is the host of Kabul Jan, a radio program on CFCR, which airs on Sunday mornings.
Content of the article
Maryam Masoomi says she felt like she was born again when she crossed the border from Afghanistan to Pakistan.
Content of the article
As an educator, radio host and leader of an all-female music group, SA – Sound of Afghanistan, she faced punishment from the Taliban, known for their disdain for singing or playing musical instruments. music. She and her family had no choice but to leave Afghanistan after the Taliban seized power on August 15, 2021.
Months later, Masoomi is in Saskatoon and back on CFCR, hosting Kabul Jan – a radio show that features music from Afghanistan.
"Being in (the) radio station feels so good," she says.
Masoomi was working in the media in Afghanistan and wanted to work in industry in Saskatoon. A counselor from the Saskatoon Open Door Society helped her find a starting point: CFCR, Saskatoon Community Radio.
She spoke with program director Jay Allen and soon began training to host her own show, which airs Sundays from 7-8 a.m. It was launched on May 8.
Music has been her passion since childhood, and she chose to name the show Kabul Jan because she loves her hometown, she says.
The show features Afghan music from different genres and cultures, including Ghazals and Mahali.
Masoomi herself loves pop and rock; among his favorites are Afghan pop stars Aryana Sayeed and Qais Ulfat.
"When I'm at CFCR, I feel so fresh and so good," she says.
Allen said he was intrigued when Masoomi reached out, and the more he learned about her story, the happier he was that they met and were able to get her back on the radio.
CFCR doesn't try to funnel content "down the middle," he notes; the station wants as many different cultures, communities, individuals and musical genres on its airwaves as possible.
Content of the article
"I love listening on the weekends. Obviously I don't speak the language in most cases, (but) I love listening to music, I love hearing all the different styles of music. really inspired and broadened my musical horizons, to incorporate the different beats and sounds that are made from countries all over the world," he says.
Masoomi was at work the day Kabul fell. A colleague told her and another woman to go home because the Taliban had entered the city, she recalls. The news came as a shock as she never thought the Taliban would return. The president, Ashraf Ghani, has fled the capital and the country.
It was too hard to accept, Masoomi said.
"Everyone was so frustrated, desperate and sad. Everyone was running home. Especially women, because in the past (the) Taliban, they were just against women.
Massomi was an assistant in the music department at Marefat High School and an assistant in human resources. She had also worked in the media, hosting a music radio show and previously hosted a show focusing on psychiatric illnesses.
As an assistant in the music department, she led and coached students and the SA band, which performed at school ceremonies, embassies, and on television.
She and other members of the SA group hid inside their homes, fearing the Taliban would find their many music videos, she said.
A few days later, the school principal called her to tell her to collect all the information for the SA group members.
Content of the article
Later that month, the 30 Birds Foundation, which helped evacuate the school's founder and school girls threatened by the Taliban – athletes, singers and entertainers – told Masoomi they had obtained Canadian visas for the group.
They were ordered to go to Mazar-I-Sharif, more than eight hours northwest of Kabul, to fly away from there, they would fly away. They left with nothing but two spare clothes, she recalls.
Masoomi deleted documents from his phone and burned his certificate logs and photos.
"It was too hard," she said.
They began their journey on September 1, arriving in Mazar-e-Sharif at night to face numerous Taliban checkpoints. The women and girls wore hijabs and masks, and the Taliban did not recognize them, using the flame of a lighter to see while checking each person they arrested.
"We were so scared. It was the dark memory of my life," she says.
They waited two weeks with no news, then were told they had to return to Kabul and head west to the Pakistani border – a process that involved many more checkpoints, she recalls.
At one, the Taliban stopped the car containing Masoomi and his family. When his brother said they had come from Kabul, the Taliban told them to stop; their bags were checked and when asked what was inside, her mother said it was just clothes, Masoomi says. They were allowed to leave, relieved that they were not recognized.
They continued to Jalalabad for a brief rest and then proceeded to the border, where they showed passes and IDs with different names and were allowed to enter Pakistan.
Content of the article
She never thought she would leave her country like this, Masoomi says.
The group spent about a month in Islamabad before Masoomi, her brother, mother and younger sister came to Canada, arriving in Saskatoon on October 16. It was a beautiful moment for her, she said.
They were welcomed into the city by members of the 30 Birds Foundation.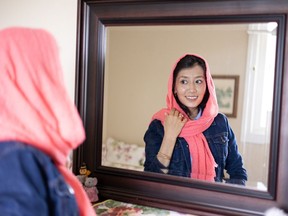 In Saskatoon, Masoomi connected with faith communities and helped direct their furniture donations to other Afghans in need.
She told her story to national and local media, received a leadership scholarship from the Saskatoon Police Department, and performed again in the city. She recently met Prince Charles in Ottawa during his visit to Canada, alongside other refugee women from Afghanistan. Saskatoon MLA Marv Friesen introduced it to the Saskatchewan Legislative Assembly.
Masoomi says she has her sights set on more: She hopes to meet Prime Minister Justin Trudeau and is considering post-secondary education — perhaps studying business at the University of Saskatchewan or media production at Saskatchewan Polytechnic.
Leaving home was difficult, but life here has meant new opportunities to learn and improve skills and to dream again, she says.
"One day I just want to be a leader, a great leader for them. And I also have my own goals. Participate in Parliament, be a good journalist, be a good manager. Be a good leader.
Afghan refugee is looking forward to rebuilding his life and making connections in Saskatoon

How Vietnamese refugees inspired the creation of the Open Door Society of Saskatoon
Want to know how we decide what to cover and how editorial decisions are made at the Saskatoon StarPhoenix and the Regina Leader-Post? Get the weekly Letter from the editor newsletter from editor Russell Wangersky and join the discussion on what's happening in news coverage and commentary delivery, both in print and online. Click here to subscribe.